Ciphertex SecureNAS® CX-40KSD-SAS


DESCRIPTION
Up to 72TB Capacity in a Small Durable Package
2.5" SSDs for fail-safe operation. FIPS 140-2 (Level 3) certified Encryption Key used for locking/unlocking encrypted volumes. Hardware accelerated AES-256 bit encryption. Onboard graphics. IPMI. Two available PCIe slots which support optional 10GbE and 40GbE interfaces, PCIe SSD, graphic cards and other compatible devices. Easily connect your Ciphertex SecureNAS® to any Windows, Mac, or Linux computer via a fast USB-3 connection with the proprietary and secure Ciphertex Quick Link cable. Complete business-ready storage solution with iSCSI cross-platform file sharing. Dual 10GbE fibre LAN included, with optional copper for highly-efficient mission critical applications. Intel® Xeon® processor D-1518 4-Core, with optional 8 and 16-Core upgrades available. 32GB DDR4 memory expandable to 128GB. Secure, aluminum front door with lock and key to prevent theft and removal during operation and loss of data.
Delivering true enterprise-level performance, the SecureNAS® CX-40KHD features an Intel® Xeon® D processor and 32GB DDR4 ECC memory (expandable to 128GB) ensuring dependable reliability. With the SecureNAS® CX-Linux ZFS operating system, the CX-40KHD ensures data integrity and supports block-level inline deduplication and compression, near limitless snapshots and real-time SnapSync. The CX-40KHD helps your business achieve reliable service-level agreement performance in a vast array of use cases, including mission critical file servers, virtualization servers, collaborative video editing, data backup and restore, business continuity and disaster recovery.
The rugged SecureNAS® enclosure ensures military-grade durability and transportability.
The SecureNAS® is certified by a US military environmental test lab. Developed, designed and manufactured in the USA.

2 redundant SSDs for caching and hosting the CX-Linux ZFS OS.

32-128 DDR4 ECC memory detects and corrects single-bit memory errors, demonstrating high reliability for crucial applications.

Incredibly solid and rugged design delivers complete physical security during transport.

Two PCIe slots allow for 5GbE/10GbE/25GbE/40GbE adapters, M.2 SSDs, or graphics cards to increase application performance.

Scalable storage supporting virtual machines, containerized apps, centralized storage, backup, sharing, and disaster recovery.

SecureNAS empowers your business. Sleep well knowing your data is totally safe and secure.
Other Available SecureNAS® Models

INTEL® XEON® D PROCESSORS
Intel® Xeon® D processors deliver workload optimized performance in space and power constrained environments, from the data center to the intelligent edge. These innovative, system-on-a-chip processors support high-density, single-socket network, storage, and cloud edge computing solutions with a wide range of integrated security, network, and acceleration capabilities.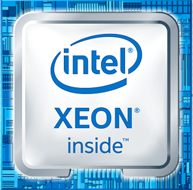 Ciphertex SecureNAS® CX-40KHD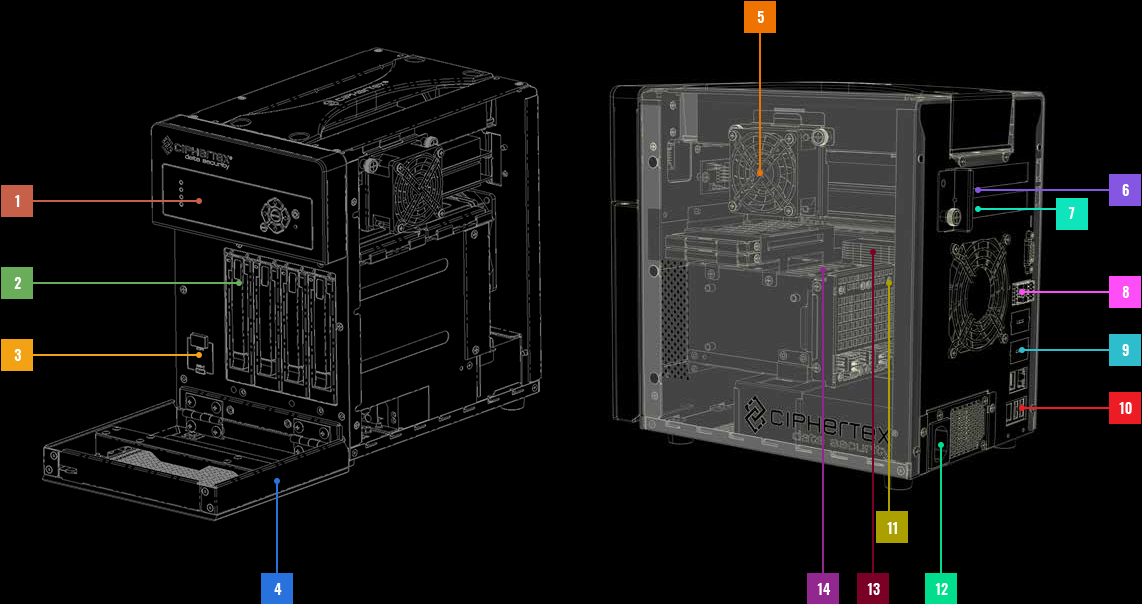 1
LCD Display Screen
A clear view of server status and other information
2
4x 3.5-inch drive bays
Support for up to 4 enterprise-level SATA 6GB/s drives.
3
USB-C
Ultra-high speed, leading edge connectivity
4
Locking Drive Access Door
Physical security
5
Smart Cooling
Thermal detection adjusts the fan speed based upon current cooling needs for optimal performance
6
Optional 10G Ethernet Ports (4)
Delivers transfer speeds up to 5Gbps.
7
2x PCIe Gen 3 X8 expansion slots
Supports 5GbE/ 10GbE/ 25GbE/ 40GbE network expansion cards, QM2 cards, graphics cards, or QXP PCIe SATA expansion cards for greater application potential
8
10 GbE Fibre
2 ports standard with SFP+ adapters
9
2x USB 3.0 and 3.2 Gen 1 ports
Delivers transfer speeds up to 5Gbps.
10
IPMI Port
Facilitates easy network administration
11
Intel® Xeon® D processor
Intel® Xeon® D series processor with multi-core computing power and up to 3.2GHz speeds
12
Power Connector
Standard AC power
13
DDR4 ECC memory
Four DDR4 Long-DIMM slots supporting up to 128GB RAM.
14
2x 2.5" SSD bays
The CX-Linux operating system resides mirrored on 2 internal SSDs also used for caching
Hardware Specs
Drive Bay
Up to 4 hot swappable 3.5" HDDs and 2 internal SSDs – Up to 72TB RAW storage capacity
HIGH PERFORMANCE CPU
Intel® Xeon® Processor D-1518 Socket FCBGA 1667 supported CPU TDP support 35W
CORES/CACHE
4 Cores (upgradable to 8 and 16 Cores), 8 Threads /6MB Cache
MEMORY CAPACITY
Up to 128GB Unbuffered ECC/non- ECC UDIMM, DDR4- 2133MHz, in 4 DIMM slots
MEMORY TYPE
2133/1866/1600MHz ECC DDR4 ECC RDIMM and ECC/Non-ECC UDIMM
DIMM SIZES
4GB, 8GB, 16GB, 32GB
MEMORY VOLTAGE
1.2V
ERROR DETECTION
Corrects single-bit errors Detects double-bit errors (using ECC memory)
M.2 EXPANSION
M.2 Interface: 1 SATA/PCI-E 3.0 x4
SAS2
Broadcom 2116 SW controller for 16 SATA3 (6Gpbs) ports; SAS2 and SATA3
IPMI
Support for Intelligent Platform Management Interface v.2.0 IPMI 2.0 with virtual media over LAN and KVM- over-LAN support
NETWORK CONTROLLERS
Dual LAN with 10G SFP+ from D-1500 SoC; Dual LAN with 1GbE w/ Intel® I210
GRAPHICS
Aspeed AST2400 BMC
LED INDICATORS
Status/Power, USB, LAN
PUSH BUTTONS
Power, Reset, Copy
TEMPERATURE
0 – 60oC (32oF ~ 140oF)
SMART FAN
1 x 12cm (12V DC)
WEIGHT
12.8 lbs (w/o drives)
SIZE
Height: 9.8" (243 mm) Width: 7.0" (178 mm) Depth: 9.5" (241 mm)
Features
Intel® Xeon® processor D-1518 4-Core, with optional 8 and 16-Core expandability featuring the latest 14nm energy-efficient SoC
Dual 10GbE fibre & copper expandability for highly efficient virtualization and intensive data transmission
LCD display for real-time information and easier system management
Smart cooling fan detects internal component temperatures to automatically adjust its speed, delivering the quietest possible operation under various conditions.
Top of the line hardware
hardware for maximum reliability and performance.
Hardware accelerated AES-256 bit encryption Hardware accelerated AES-256bit encryption
Supports four DDR4 memory modules for a maximum of 128GB RAM
Built-in M.2 SATA 6GB/s slot for ultra-high speed performance while taking advantage of SSD caching.
Centralized management solution for networked computing devices
Supports centralized storage, backup, sharing, and disaster recovery
Optional 5 year warranty (3 years standard)

RAID Array Storage Capacity Table

Ciphertex Delivers Peace of Mind with Every SecureNAS®
Ciphertex is proud to lead the Data Security Industry by offering up to a 5-Year Warranty on all models of our SecureNAS® server product line, starting with a standard 3-Year Warranty.
Parts and factory labor are fully covered, along with unlimited technical support and return ground shipping from our facility. Field service warranties at various response levels are optionally available.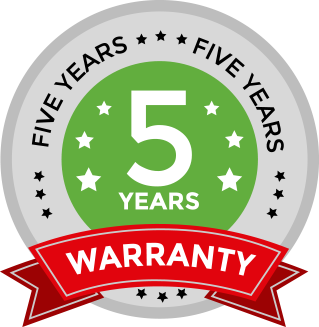 Optional Features and Accessories
Ciphertex offers a vast array of features and accessories in order to ensure its seamless interoperability in any environment and any infrastructure, along with making sure your SecureNAS® meets your every need and want.
Included in the list are:
Additional Encryption Keys
10G Copper 2 Port Interface
10G Copper 4 Port Interface
USB-3.0 PCIe 4 Port Interface
SFP+ Optical Module
USB-3 to USB-C Adapter
7ft and 20ft Quick-Link® Cables
SAS-2 Interface (External LTO, etc.)
Extra Power Cable
Hard Transport Case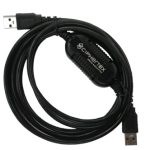 Ciphertex SecureNAS® Quick-Link Cable
Employed to connect client Windows, Mac and/or Linux based computers to your Ciphertex SecureNAS® via a standard, fast USB 3 interface. Up to 10 heterogeneous computers can simultaneously access and share data on a single Ciphertex SecureNAS®. Add up to 2 optional Quad Port USB 3.0 PCIe Controllers to your...
Learn More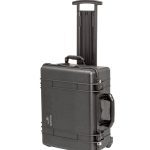 Hard Transport Cases for NAS
HARD TRANSPORT CASES FOR CIPHERTEX NAS SOLUTIONS We designed our Hard Transport Cases to completely protect Ciphertex NAS storage servers during shipment via common carrier. Ciphertex cases are hi-grade engineering. Cell-core construction helps to transport and protect the Ciphertex NAS storage server in the most extreme conditions on Earth. The...
Learn More