Data Security Solutions for Military & Federal
Made in America. Quality.
Secure Data Storage.


Ciphertex Offers the Military and Federal Agencies Protection from Cyber Attacks & Unauthorized Access
Ciphertex is trusted to provide the most reliable federal data security and military data security solutions on the market. Encrypting sensitive information helps improve national security through GSA Schedule 70 approved solutions that secure data and ensure military/defense systems are secure. At Ciphertex, we provide security solutions trusted at the highest levels.
We are proud to work with the U.S. Military, armed forces and defense contractors, defense ministries, and a wide range of military organizations to combat cybercrime and cyberwarfare. Our secure data storage solutions are designed to meet the tightest standards whether employed in the defense sector or commercial industries.

AIR FORCE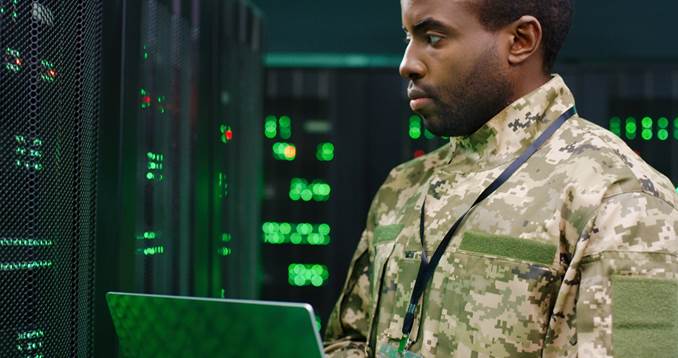 ARMY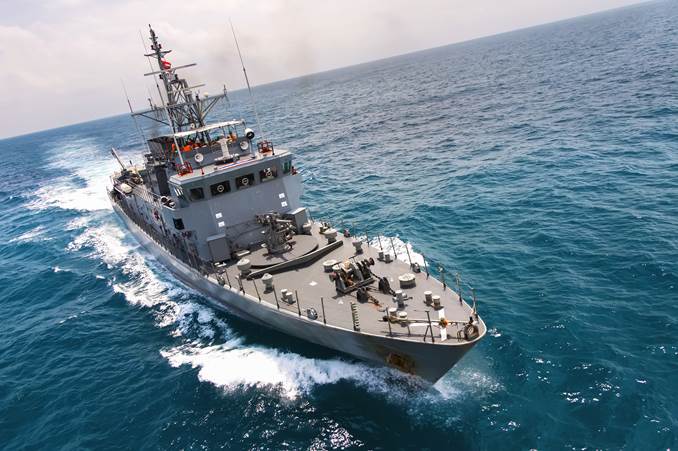 Navy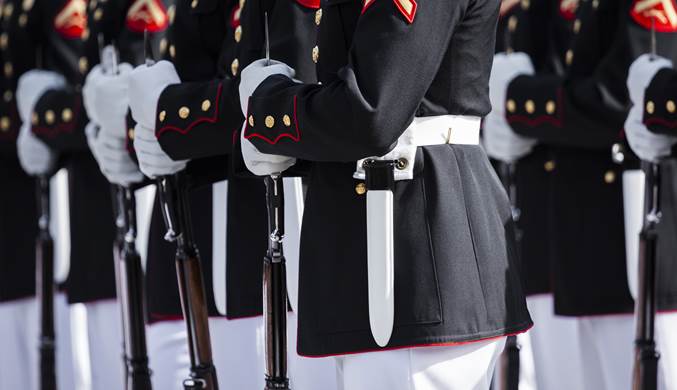 Marines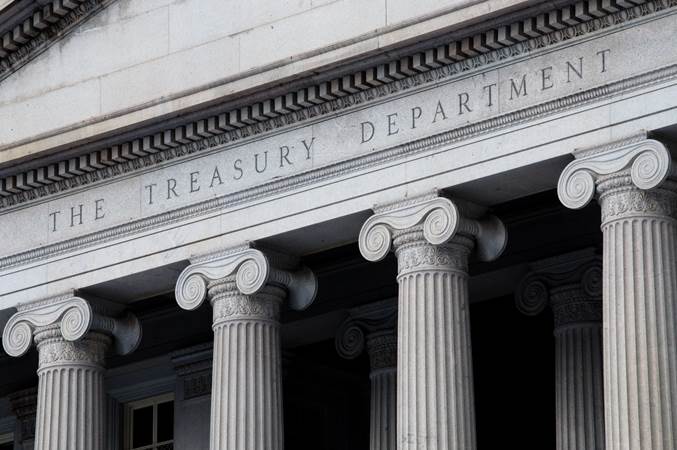 Treasure Department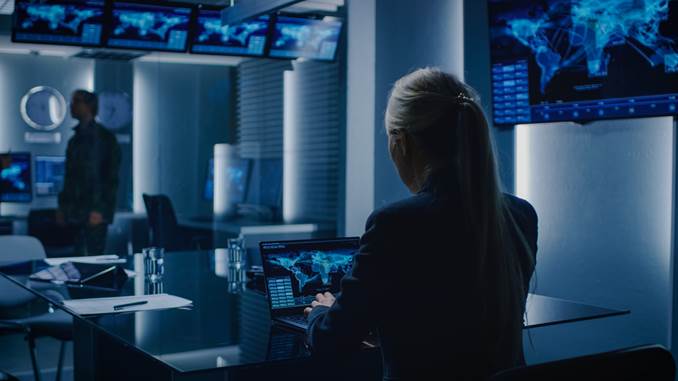 And More
Security Solutions Trusted by the Defense Sector

Custom Solutions Available

Built for Transportability

Security, reliability & quick data access

Offered on the GSA, SEWP V, TechOps II, NETCENTS-2 Procurement Vehicles

3-Factor Authentication

Disaster Recovery & Business Continuity
ISTA Certified by a DOD Approved Environmental Testing Lab
Ciphertex Data Security products are designed and ruggedized to ensure secure data storage at a level that meets or exceeds the strict military standards and specifications. We strive to provide the most advanced storage, networking, and security solutions to protect confidential data under any circumstance. Our security solutions provide a high-performance security barrier that guarantees vital encryption to prevent confidential data from being lost or stolen.
Ciphertex products, including our portable NAS servers and portable data servers, are certified by a Department of Defense Environmental Testing Lab. Our data encryption systems are sent to an environmental test laboratory to undergo rigorous inspection before delivery to guarantee the best in class security encryption. Testing includes:
Vibration
Drop
Shock
Temperature
Altitude
Humidity
Impact
Transportation
Acceleration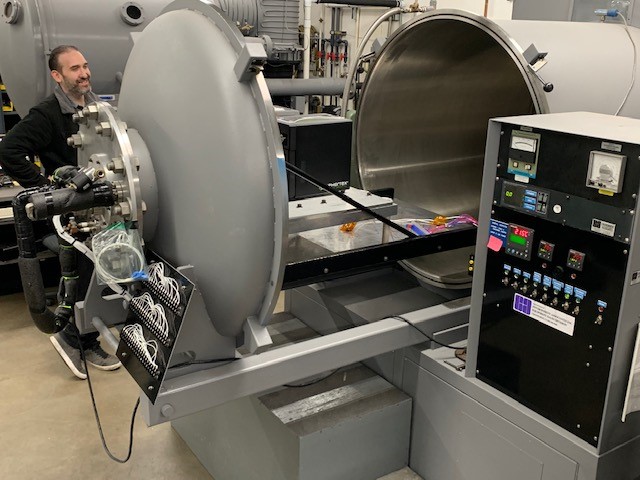 Advanced Data Encryption
Encryption technology is rapidly advancing and playing an essential role in an expanding number of systems, especially portable storage and networking devices. The Advanced Encryption Standard (AES) is a National Institute of Standards and Technology specification for the encryption of electronic data used by the U.S. government to protect its classified information. It is widely used in software and hardware to encrypt sensitive data and improve network security.
Today, not only is AES used by the U.S. government and military organizations, but it is also widely used in the private sector. It has evolved as the most popular algorithm used in symmetric key cryptography. AES is more secure and enables faster encryption than its predecessors, DES and 3DES, whether used for endpoint security or network security in general.
Ciphertex Data Security solutions secure your data using an AES 256-bit encryption key both on transfer and at rest to maintain the utmost data confidentiality. Your data is absolutely inaccessible without the encrypted key that is unique to your Ciphertex system. Information on an encrypted network will remain protected until the proper key is used to access it.
Highly Secure Media & Data Transfer Matters for the Government and Military
Protecting personally identifiable information continues to be a key concern for federal agencies. As such, all sensitive data must be transmitted only by devices that are equipped with encryption and which meet FIPS 140-2 standards. We ensure defense and military clients have the most effective data security possible.
The U.S. Government & Military depend upon the collection and utilization of vast amounts of data. Along with the federal government, the U.S. Military has established stringent guidelines for handling data at all levels. Ciphertex network security solutions and equipment are specially designed and certified by a military-approved environmental testing lab to meet and exceed these guidelines.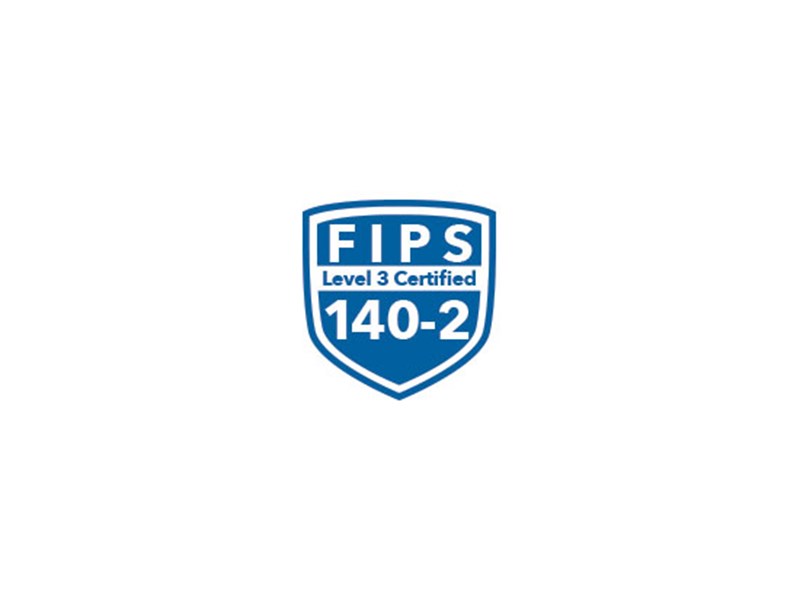 Ciphertex Customers





Ciphertex has been providing data security to Federal, State, Local Governments for over a decade
Ciphertex Data Security enjoys a long, mutually rewarding history of working with the Federal government. We have worked with many agencies, including the Treasury Department, the Department of Defense, and the Department of the Treasury. With the combination of our GSA Schedule 70 contract, GS-35F-487DA, and access to multiple Government-Wide Acquisition Contracts (GWACs) such as NASA SEWP V, the Department of Homeland Security's TechOps II and the US Air Force NETCENTS-2 purchasing vehicles, through our partner network, we are well-positioned to work with our federal customers to fill their unique storage needs.
All of our data security and storage products are thoroughly tested in our headquarters facility in Chatsworth, California, USA. They are Trade Agreements Act (TAA) compliant with up to a 5-year warranty.
Ciphertex products are ideally suited for state governments, local municipalities, and educational institutions, which all have ever-changing data storage needs. We help navigate budget restrictions and other evolving demands to facilitate the procurement of storage products and services of true value. We assist in the defining, deployment, and ongoing support of those solutions. Our data storage, rackmount servers, network security, data backup and recovery, and other products have been proven time and time again to increase productivity and minimize threats to company data for our most discriminating public sector clients, including the U.S. Military. With clients like these trusting their data security and integrity to Ciphertex, you can too.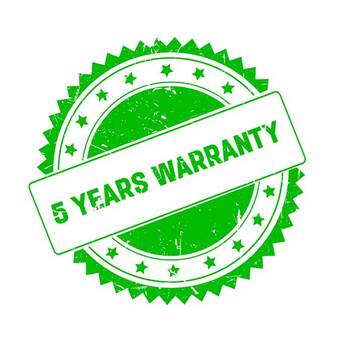 LEARN MORE ABOUT OUR WARRANTY
FISMA Compliance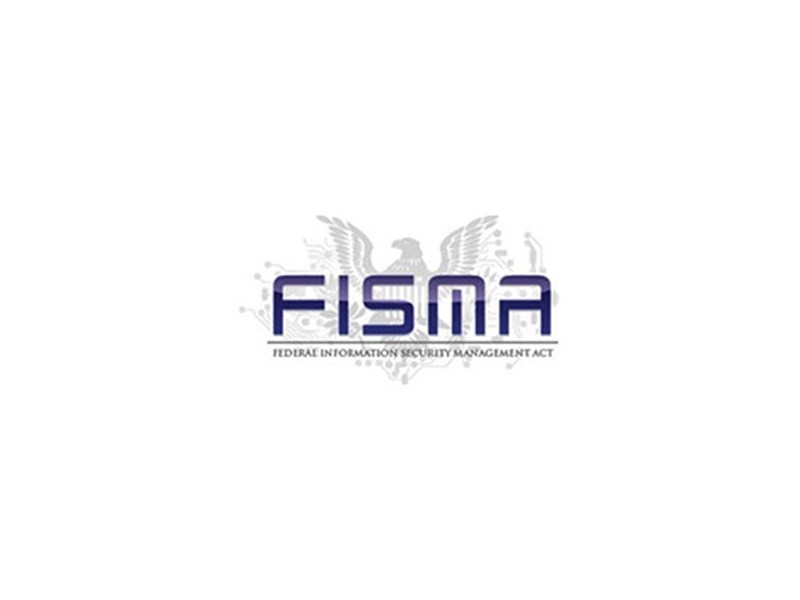 The Federal Information Security Management Act (FISMA) specifies data/network security protocols for both federal agencies and their contractors. The objective of FISMA compliance is to ensure that government departments and agencies observe measures to mitigate data security risks in government IT systems. Organizations must follow FISMA compliance guidelines by monitoring, storing, and maintaining audit records of all security-related events.
Ciphertex Data Security helps institutions meet these demanding regulations with its complete line of highly secure data storage solutions. Our FIPS 140-2 certified systems, with AES 256-bit encryption, keep stored data inaccessible and untampered with, protecting sensitive information from all types of threats. Designed to be both portable and ruggedized, Ciphertex systems keep classified information completely secure during transportation and at rest. By deploying Ciphertex products, companies can rest assured their business is FISMA-compliant.
Cybersecurity Solutions for Defense and Military Organizations
Ciphertex-developed data encryption systems are specifically designed for military and defense applications, products include: portable NAS servers, rackmount servers, RAID systems, and encrypted external drives.
We're here to help you improve your network security. Use our free RAID calculator or continue browsing to learn about our NAS security and other data encryption systems for defense organizations.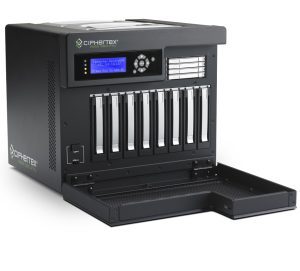 Ciphertex SecureNAS is environmentally certified for use by all 6 branches of the US military.