Ciphertex is a leading data security solutions provider trusted by organizations worldwide
Ciphertex is an American company that manufactures encrypted network storage and direct attached storage solutions for organizations of all sizes. Every Ciphertex storage device incorporates innovate software development, the latest encryption technology, and enterprise-level build quality, in addition to unparalleled performance, style, and security.
In today's interconnected world, businesses are experiencing a dramatic growth of digital data long with an increasing number of security threats. With roots firmly planted in decades of experience working within the Forensics and Military sectors, Ciphertex is uniquely capable of providing secure storage solutions to keep your data protected and accessible at all times. 
Enterprise Data Storage Solutions for Professionals
Our proprietary technology accelerates encryption/decryption flows for robust data protection and faster workflows. Unique to Ciphertex, our encryption method experiences virtually zero performance delays while encrypting your data.
MILITARY-GRADE ENCRYPTION
Designed for optimum performance, Ciphertex AES-256 bit encryption is trusted by organizations in a vast array government and commercial sectors that require complaint and secure encryption technology.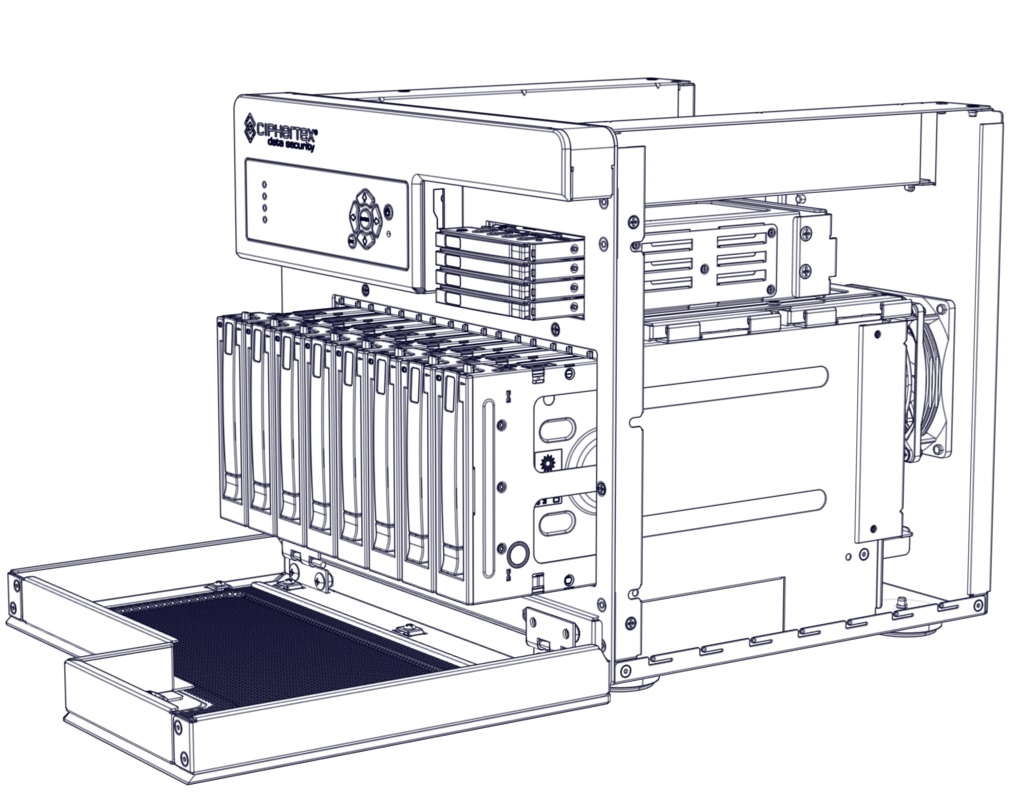 In NAS systems, which typically come in either a desktop or rackmount form factor, multiple drives are combined for redundant data protection and high performing storage. 
NAS appliances allow multiple computers access to the same shared-storage over a secured local network by attaching the NAS to a router or switch.
Since multiple users from multiple computers can access the stored data at once, NAS servers provide a simple and relatively inexpensive way to add more storage to your network. Easy deployment along with the ability to create multiple file systems makes NAS servers a popular storage solution for businesses of all sizes. Additionally, our SecureNAS servers come with 2 x 10 GbE network interface cards (NICs) for larger bandwidth and lower latency. 10 GbE connections provide faster performance, simplified data transport, and unified workflows.
ALL SYSTEMS ARE POPULATED WITH ENTERPRISE-CLASS HDD/SSD DRIVES
Ciphertex Solutions come fully populated with enterprise class hard drives (HDD) and/or enterprise class solid state drives (SSD). The HDDs are rated at 1.5M Hours MTBF or greater and offer Revolution Vibration Control (RVC). This integrated technology stabilizes the drives especially in a RAID environment. The more drives employed in an array, the more harmonics that can occur and dismount the drives. The RVC ensures this does not happen. The enterprise SSDs have a mean time to failure (MTTF) of 3M device hours.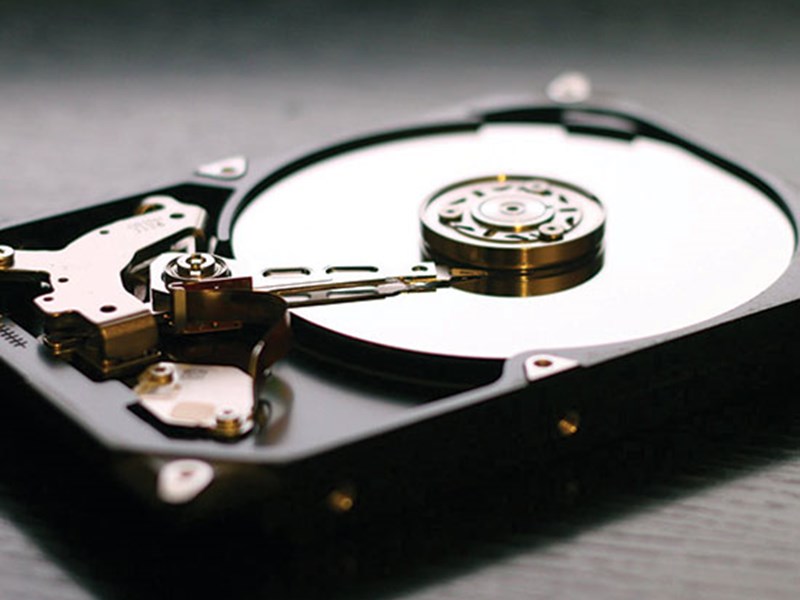 Disk failures are an unavoidable reality. In addition to employing only high-performance, enterprise class drives, you can configure your Ciphertex server to a Redundant Array of Independent Disks (RAID) protection level in order to avoid the loss of your valuable data. RAID is the storage technology that combines multiple disk drives into a logical unit. Data is distributed across the drives in one of several methods which are described  as "RAID levels." The RAID level choice is made based upon the degree of redundancy and performance required. All Ciphertex multi-drive units come configured to the RAID level of your choice.
RAID 0/ZFS STRIPE: Data is "striped" across all drives, as if they were one large drive, for speed, without backup.
RAID 1/ZFS MIRROR: Data is written identically to at least two drives, thereby producing a "mirrored set" (1) drive from a set can fail while continuing to operate (Requires even # of drives)
RAID 5/ZFS RAIDZ-1: Data is striped and parity information (Redundant data used to recover lost data) is striped. Any (1) drive can fail and the data for that drive will be on the other drives.
RAID 6/ZFS RAIDZ-2: Similar to Raid 5, but data is striped and (2) drives worth of parity information are striped. Any (2) Drives can fail and continue to operate.
RAID 10/ZFS STRIPE-MIRROR: Data is striped (for speed) and mirrored (for redundancy) across all drives (1) Drive from a set can fail while continuing to operate, meaning up to 5 drives could fail as long as they aren't part of a mirrored-pair (Requires even # of drives). Raid 10 is the most secure portable RAID available, and can be as fast as RAID 0 as long as RAID 10 has 2X the drives to a comparable RAID 0 set up.
Uniquely rugged and portable, our products are environmentally tested to withstand the most extreme conditions imaginable. The durable chassis can withstand a myriad of high-stress environments, including depressurization and violent vibration. Ciphertex portable products will go wherever you need them to go, whenever you need them to be there.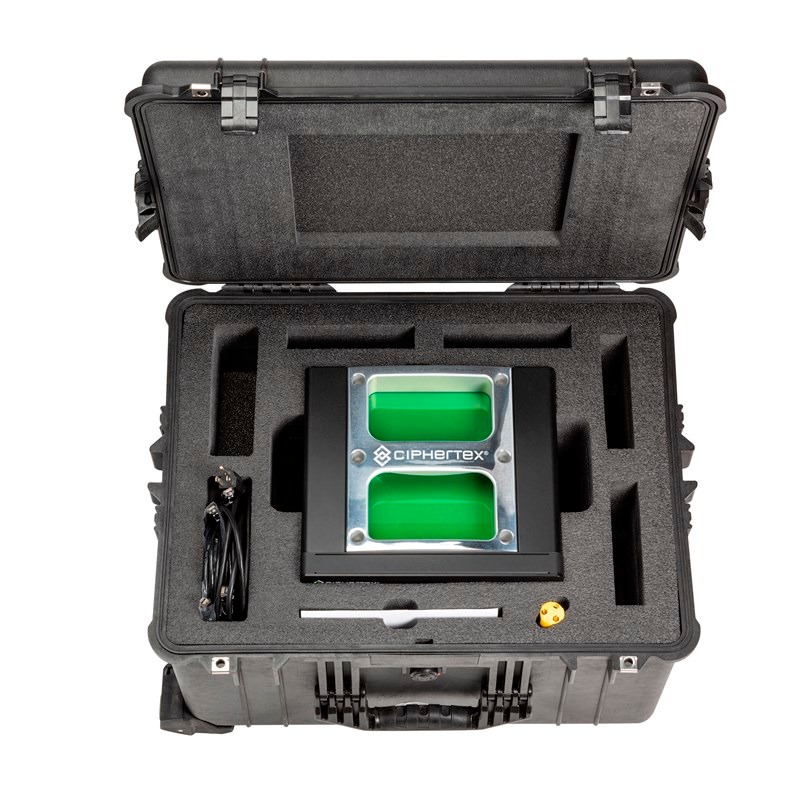 DATA BACKUP/RESTORE ESSENTIALS
Delegate well defined roles and responsibilities to ensure accountability.
Thoroughly train those individuals designated in responsible roles.
Establish both offsite and onsite backup storage locations.
Create detailed documentation for orderly and efficient data backup and restore operations.
Regularly test the restoration of backed up data.
Have a well documented business continuity/disaster recovery (BC/DR) contingency plan in place.
CIPHERTEX STORAGE SYSTEMS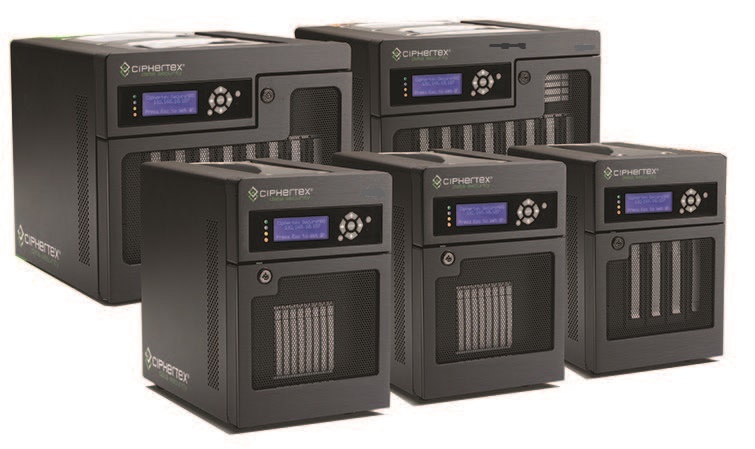 Ciphertex Certifications & Features
Certifications
FIPS 140-2 Level 3 Certified
FCC, CE, and UL Certification
AS9100D with ISO 9001:2015 Certified
NIST 800-88 Compliance
HIPAA Compliance
Military Environmental Lab Testing Certified
GSA Schedule 70 Contract
Features
AES-256 Encryption
Hardware Encryption Key
Key Management
Multi-Factor Authentication
Industrial Design for Optimum Processing Power
ISTA CERTIFIED BY APPROVED ENVIRONMENTAL TESTING LAB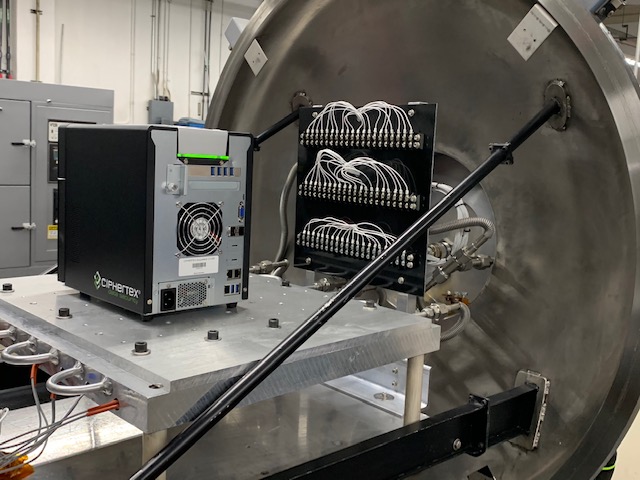 Ciphertex Data Security products are designed and ruggedized to ensure data integrity at a level that meets or exceeds the strict military standards and specifications. We strive to provide the most advanced storage and networking solutions to protect confidential data under any circumstance.
Ciphertex products are certified by a registered Department of Defense Environmental Testing Lab. Our products are sent to an environmental test laboratory to undergo rigorous inspection prior to being released for delivery.  The elements thoroughly tested in order to gain this certification include vibration, drop, shock, temperature, altitude, humidity, impact, transportation and acceleration.
Ciphertex Production Facility
Ciphertex manufacturing process and products meet a comprehensive assortment of coveted certifications, compliances and features that fulfill the strict regulatory guidelines required by the various industries we serve. These fortify each Ciphertex product with unmatched levels of security, unlimited capacity, and rugged portability.
With our design and development team, production facilities, testing lab, and headquarters all based in Los Angeles, California, Ciphertex is proud to provide American-made solutions.
Ciphertex ISO 9001 Certified Facility
At Ciphertex, our customer-centric focus starts with providing digital storage solutions that can be relied upon to perform securely and flawlessly under the most demanding requirements. To ensure this most critical feature of our products, we achieved ISO 9001 Certification led by NSF-ISR, a leading global certification body. The rigorous assessment process required for ISO 9001 Certification included full examination of our management policies, our best practices and our complete organizational procedures.
This certification ensures that we can identify the root of a problem in manufacturing or operations if one should arise, and swiftly define an accurate solution, thereby improving the overall efficiency and quality of our products and services.
What this means to our customers is the assurance that our products and services will be delivered on time, meeting the highest standards of quality and reliability. Proving our technical expertise and company wide procedures through this independent audit and certification, AS9100D WITH ISO 9001:2015, highlights our commitment to Quality Management and exhibits yet another reason to choose Ciphertex Data Security for all of your digital storage solutions.
Note: Audited in accordance with AS9104/1:2012 Requirements for Aviation, Space and Defense Quality Management System Certification Programs. NSF-ISR is accredited under the American Aerospace Quality Group Registration Management Committee.